Custom-Built Commercial
Hangar Doors
An aircraft is a paradox. It's durable enough to last for years and years while flying in all seasons, but it is also a delicate object made up of many intricate and fragile parts. Your aircraft will have extended lifespans when secured behind commercial hangar doors provided by FoldTite Systems.
If you are lucky enough to have a plane, ultralight, or helicopter, you know the value of keeping it protected with heavy-duty weather-sealed doors. They are sure to maximize the space available in your hangar and make the building itself an attractive structure.
We have come to a conclusion that you are best served when we supply a fully-assembled door with as much hardware installed as possible to minimize your instillation time and assure you that everything works the way it is intended. Our doors accommodate any hangar and are constructed for ease of use and durability in all conditions. Whether you're looking for inside or outside-hung commercial doors, we've got what you need, so contact us today.
See more information below about the doors we offer, and we're sure you will find an exact fit – whether you're sheltering a J-3 Cub or a Learjet 75.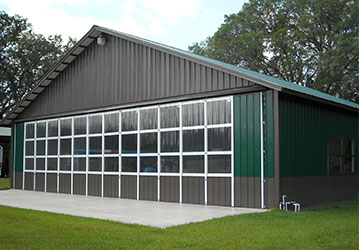 This door is designed for the typical general aviation hangar to tightly stack and give the maximum door opening in your building. The door can be installed on the inside or outside of a building, making it ideal for any climate.
Sliding inside, down a building sidewall, moves the door away from bad weather like snow and wind. The door operates smoothly by manual effort and stores on the building sidewall yet allowing storage space.
---
The top-hung sliding doors are an ideal solution for "T" hangars. The bottom-rolling doors pace the entire weight on the concrete floor. These can reduce the cost of a building significantly.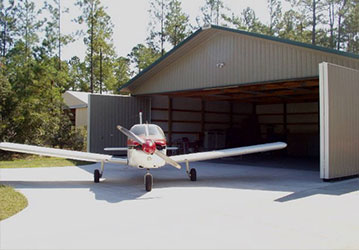 Other doors for large buildings include hinged, accordion-style, horizontal bi-fold, or a combination.