FoldTite Systems, Inc. – Large Commercial & Hangar Door Designer
FoldTite Systems, Inc., Hangar Door Designer, specializes in large door construction and sales of commercial and hangar doors. We have several designs to suit various climates that maintain an attractive appearance. Our designs include general aviation aircraft hangar doors such as the FoldTite Stacker, which provides maximum open door space for your building. We have Inside Sliders that move the door away from bad weather or wind, or Straight Sliders – either Top Hung or Bottom Rolling Doors are available. Other styles include single or combination of hinged, accordion, horizontal or bi-fold.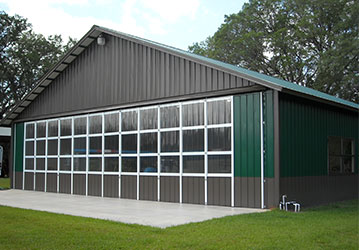 Designed for the typical General Aviation hangar to tightly stacked and give the maximum door opening in your building. The door can be installed on the inside or on the outside of the building making it attractive for any climate or area.
Sliding inside, down the side wall of the building, moves the door away from bad weather, away from snow or winds. The door operates smoothly by manual effort and stores on the building side wall yet allowing storage space
---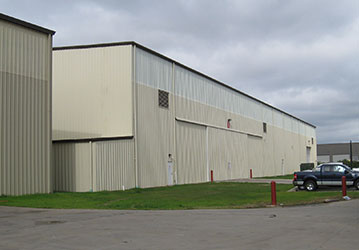 Includes our Top Hung Sliding Doors and Bottom Rolling Doors. The Top Hung Sliding Door is a great solution for "T" Hangars and The Bottom Rolling Doors paces the entire weight on the concrete floor reduces the building cost by a lot.
Other doors include Hinged, Accordion, Horizontal Bi-Fold, and Combination.